Hill Padua Poll Merino sells to $7400 high
The buoyant sale on Monday last week resulted in a lift in figures across the board for the offering of 120 rams.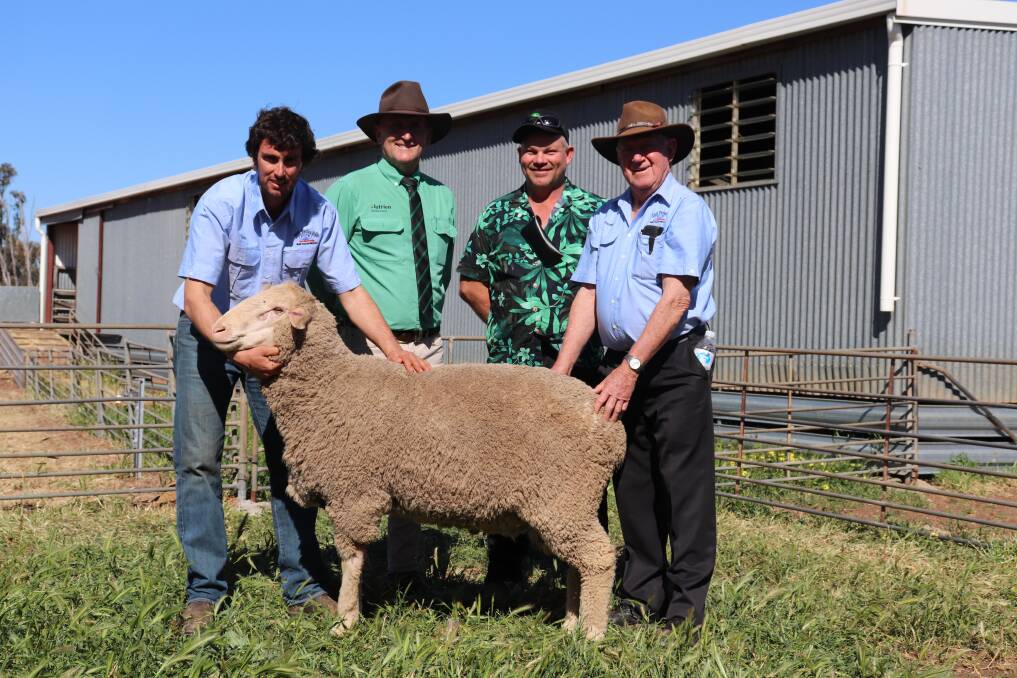 THE solid demand and strong competition resulted in a full clearance and a top price of $7400 for Hill Padua Poll Merino stud, Three Springs.
The buoyant sale on Monday last week resulted in a lift in figures across the board for the offering of 120 rams.
The top price was a $3000 rise from the previous sale with 16 more rams sold and an average price of $1374 which was up by $77.
Nutrien Livestock Mid West agent and auctioneer, Craig Walker, said it was a very well deserved result for the Hill Padua stud.
"The presentation of the rams today was excellent," Mr Walker said.
"Buyers chased a mixture of figures with clean fleece weight, eye muscle and yearling fat being popular.
"These are true to the name of multi purpose Merinos with dual purpose traits making them highly sought after.
"There was true confidence throughout the shed, with buyers from the Eastern States, AuctionsPlus and local buyers in the mix.
"You cannot get a better measure of quality than demand and Hill Padua achieved a 100pc clearance today."
The $7400 top price of the day was reached on lot number three, an East Lodden sired ram with measurements of 20.7 micron, yearling clean fleece weight (Ycfw) 28, in the top 20pc of MerinoSelect ASBV percentiles Australia-wide, yearling staple length (Ysl) of 23.7 in the top 1pc, post weaning weight (Pwt) 8, yearling weight (Ywt) 10.7, yearling fat (Yfat) 1.5 and yearling eye muscle depth (Yemd) 2.2, all in the top 10pc and a Merino dual purpose index (Merino DP+) of 182.7.
The ram was purchased by regular buyer Murray Kowald, Canna.
"We have been buying from Hill Padua for around 10 years," Mr Kowald said.
"We are shifting to better sheep country and want to build our numbers back up to at least 1000 breeders.
"This year we joined 650 ewes and had 870 lambs.
"Our goal is to get to six-monthly shearing, we are currently around 8-10 months.
"I was looking for a balanced ram today with both wool and meat traits.
"I wanted the nice long deep crimp and as wide a staple as possible.
"I bought the top-priced ram because I like mixing in the different bloodlines and had seen the East Lodden bloodline in the sale catalogue prior to the sale and looked into it."
Mr Kowald purchased a total of five rams, with two being from the East Lodden sired lines, for an average of $2900.
The second top price of the sale at $5000 went to lot number one, another East Lodden sired ram with measurements of 18.8 micron, Ycfw 28.6, Ysl 19.4, Pwt 5.9, Ywt 9.9, Yfat 1.1, Yemd 1.8 and Merino DP+ 192.3, placing it in the top 5pc.
The ram was purchased by Don and Kimble Alexander, Bradscott Pty Ltd, Narrogin, who have been buying from the Hill Padua stud for about seven years and are regular top buyers.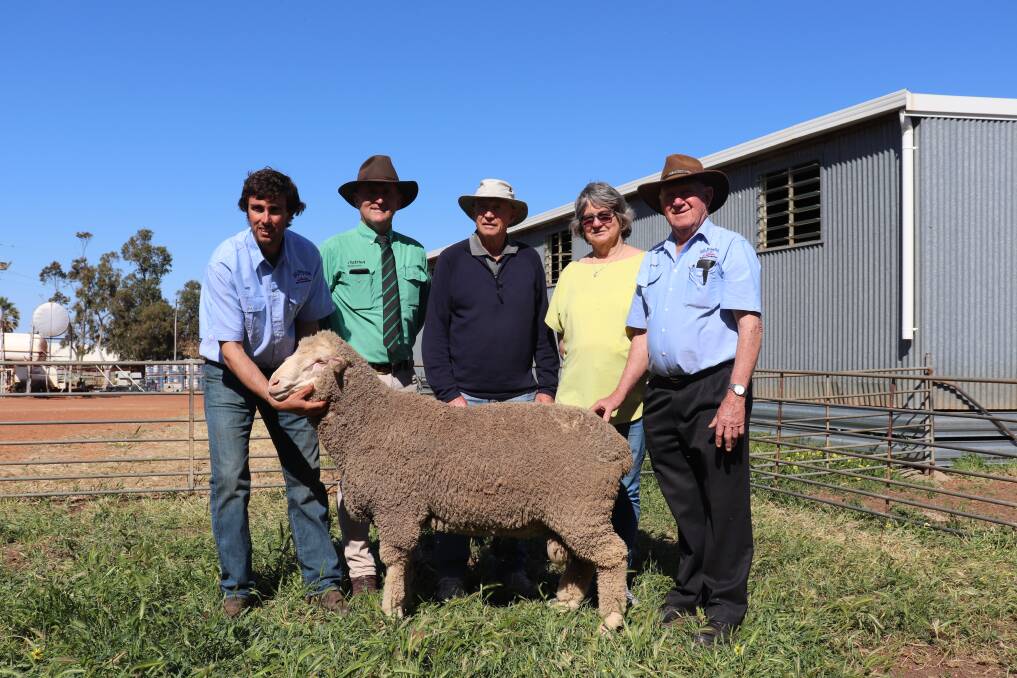 The Alexanders breed their own rams, with meat being their number one priority.
The sale was rife with volume purchasers and with such strong competition from the 25 registered buyers, it was no wonder that no one left without multiple purchasers.
One of these registered buyers was on AuctionsPlus with several bidders from the Eastern States logging on.
By far the highest volume purchaser was a new client, Phil Logue, Weelhamby Farm Pty Ltd, situated 35 kilometres north east of Perenjori, who left the sale with 18 rams.
"This is our first time at this sale and we were buying bulk rams in preparation for our first mating," Mr Logue said.
"We had previously purchased mated ewes from Hill Padua and we want to maintain this bloodline."
Weelhamby Farm Pty Ltd is a mixed farming enterprise consisting of commercially breeding Merino sheep and cropping barley and wheat.
"We are mating 1000 ewes to the 18 rams we purchased today," Mr Logue said.
The basis of the business is carbon farming, through pasture carbon, and sheep are a necessary part of the whole system
"We are working with UWA (The University of WA) and Morawa Ag College to measure environmental baselines."
Return volume purchasers, Anna-Lisa and Craig Newman, Karradale Trading, Varley, took home a total of 11 rams, to a top price of $3300, to use in their 5000 strong commercial Merino operation.
Ms Newman said they had been purchasing Hill Padua genetics for more than 10 years.
"We started out with buying a few here and there but then we moved into buying more," Ms Newman said.
"We have been improving on our ASBVs, starting out with the really good carcase traits and now we are working towards improving our wool.
"It's amazing how quickly you can make those changes by selecting for the right traits."
Ms Newman said they had moved into six-monthly shearing and wanted to improve their staple length to add further benefits to their Merino enterprise.
After such a successful sale it was no wonder that Hill Padua stud manager Fred Echaniz was extremely happy with the full clearance and improved top and average prices.
"We are really happy to see our genetics are out there in the market," Mr Echaniz said.
"People are returning every year to purchase and this is great feedback for us, because they like how the sheep are performing for them."
Mr Echaniz said that prior to the ram sale Hill Padua sold 700 hogget ewes for $330 a head to a client that has already purchased stud ewes and ram genetics in the past.
Would you like to comment on this article?
Thanks for providing feedback.